Posted on April 14th, 2013 by Dr. Blumenfield
The following is an article which I wrote for the current issue of the Forum. This is a publication of the American Academy of Psychoanalysis and Dynamic Psychiatry of which I am the current President.
President's Message: My Introduction to Telemedicine/Telepsychiatry
By Michael Blumenfield, M.D.
There are many psychiatrists and other therapists who have been involved for at least several years with using   computers and video cameras through the Internet to see patients and teach. From time to time over the years I have attended presentations that described the pros and cons of this activity. I recall some of my skeptical colleagues saying until you can smell the patient, they were not getting involved. I always thought that was extreme but recall another statement bandied around that you have to be able to get a very good look into the patient's eyes in order for this technique to be useful. Still others likened this approach to therapy on the telephone which some favored in rural areas with circumstances where there were no access to in-person therapists.
My interest in this subject was renewed about 3 years ago when I left New York Medical College. I established a practice in Los Angeles and began to explore some new venues. Dr. Elise Snyder asked me if would like to teach and do other activities with the Chinese American Psychoanalytic Alliance program (CAPAChina.org) that used SKYPE and OooVoo to teach classes, supervise therapists, and treat therapists who were in their training program. By this time I had experience using SKYPE communicating with family members and sharing some travel experience live online from far away countries.
CAPA is an extremely well organized program that continues to grow and offers eager Chinese therapists a chance to receive a high-quality two year training program in psychoanalytic therapy. Within a short time after connecting with them, I could not believe that I was sitting in my office talking and interacting with 10-12 Chinese students in three different cities. Needless to say, I do not speak Chinese and to be accepted into the program the Chinese students must be fluent in English.
I was re- reading and discussing some classical psychoanalytic papers which I hadn't read in many years. I was also learning about some subtle cross cultural concepts. For example, the concept of shame in China is a very important one and is quite different than the concept of guilt which is so important in western culture. I recall one homework exercise I gave the students which was to discuss clinical examples of shame in their therapy work or alternatively from their own life experience. One bright student told how he as a young boy would make up stories of things he said that he did wrong order to show shame which pleased his grandparents and made them very happy.
The opportunity to do one to one supervision and also some individual psychotherapy also revealed new issues reflecting the Chinese experience. For example, a patient after several months in treatment began to mention that when she was five years old, she and her family had to move to the countryside. Her memories about that time seemed to be very benign. Doing some calculations in my mind about the little Chinese history that I did know, I inquired if that wasn't a difficult time when many people were being punished and treated badly as part of "re-education " measures. This inquiry led her to begin to rock and back and forth and cry as she recalled that that was a terrible time in the history of her family.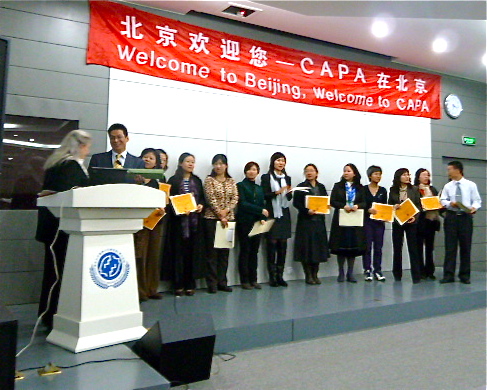 CAPA Graduation Ceremony in Beijing
In other ways the issues of trust, speaking freely and the resistances to doing so are important in therapy but are colored by the Chinese culture and the prevailing changing atmosphere in China. All this was very enlightening to me and emerged from my limited work with CAPA and telepsychiatry. My work with CAPA led to me to going on a CAPA study tour where I was able to lecture in China, meet some the students in person and attend the student graduation program in Beijing.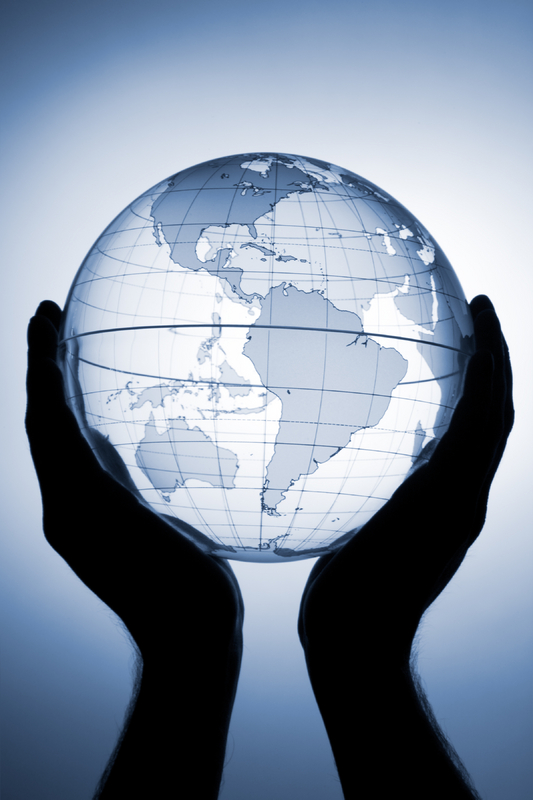 Our experience with CAPA led my colleague Dr. Jim Strain and I to set up a non-profit teaching program in Psychosomatic Medicine for third world countries (PSMWW.com). We had decided to do this rather than write a second edition for a large textbook we edited in the above field. We thus far have taught two 8-session courses in South America and in Rwanda via teleconferencing. One of the systems we use allows us to share our computer screen and that makes the projection of PowerPoint sides particularly useful. However the most meaningful part of the teaching is the direct interaction with the students. This exposure, and the nature of the teaching material we have chosen that is greatly influenced by psychodynamic experience, is also proving to be  interesting from a cross cultural point of view.
I had a completely different experience when I signed up to work one half-day a week with the California Telepsychiatry Group (caltelepsych.com/) that is part of American Telepsychiatrists led by Dr. John Schaffer. This group has a contract to provide psychiatric care via video conferencing for several mental health clinics in central California.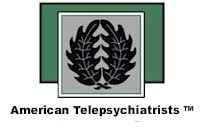 They use a system called Web-Ex which seems to be even better than SKYPE and OOVOO. They also have a sophisticated online electronic medical record that I can easily access as well as an online prescribing system called Infoscriber where I can directly prescribe to any pharmacy in California.
American Telepsychiatrists has many other sophisticated features. The sessions take place in a private room in a clinic while I am comfortably in my office in Los Angeles.  I  have a psychiatric nurse present with the patient and/or a translator when needed. While I am doing mainly psychopharmacology, I can refer the patient to individual and group therapy, to primary care physicians, and to substance abuse programs, and I can order lab work, communicate with other health care workers, and send patients directly to the hospital or do anything that I might do from my private office. The psychiatric nurse with whom I work, and the staff, are helpful and supportive. Patients adjust easily to this form of communication and most of them are extremely appreciative of the care that th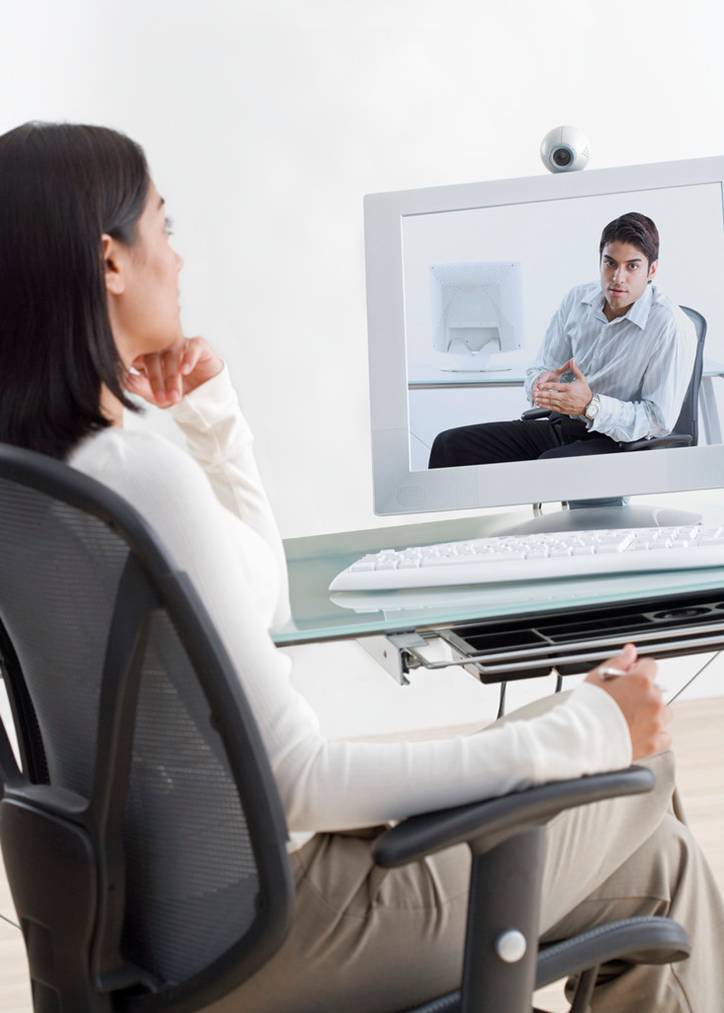 ey are receiving.
Only recently have I considered using telepsychiatry in my private office practice. There were two instances where college students with whom I was working were going back to college and they wanted to continue their sessions while they were away at school. They were very comfortable with SKYPE and one of them used it on his i-phone. The therapy didn't miss a beat. One session took me zooming from room to room as the student's roommate had unexpectedly appeared and the patient was trying to keep his therapy confidential.
I started using SKYPE to treat a new patient who was from another city and expected to be traveling to Los Angeles from time to time for occasional face-to-face sessions. Of course resistance and transference issues have to be considered when there is the lack of an in-person presence. Recently a patient being seen through SKYPE asked if I would mind if he lit up a cigarette. That issue hasn't come up in over 20 years since I removed the ash trays from my office. So while the smoke wouldn't bother me, of course I had to explore the patient's state of mind for wanting to light up at that time.
We are becoming more of a global society. AAPDP is having an increasing number of international members. We comfortably travel in airplanes and through the Internet. It seems only logical that we should take our professional lives with us on these journeys.