Posted on June 29th, 2011 by Dr. Blumenfield
CAPA is the Chinese American Psychoanalytic Alliance which is an organization founded and directed by Dr. Elise Snyder.  It provides a training program for Chinese mental health professionals in psychoanalytic and psychodynamic therapy via classes, supervision  and their own analysis with video conferencing on the Internet. . Last October I participated in the CAPA 2nd annual study tour to China and there will be another such tour this coming October. The following is an article which I wrote for the June issue  the Forum, the magazine of the American Academy of Psychoanalysis and Academic Psychiatry. The tour was led by Dr. Snyder who was accompanied by her husband Dr. Michael Holoquist a Professor Emeritus at Yale, who like his wife has traveled extensively in China. There were 27 people on the tour and all were psychoanalytically oriented mental health professionals and their spouses. Most, but not all, were participating in the CAPA teaching program. The guide for the tour was Simon Chen, an executive in the Chinese travel company, which organized the tour and who told me that he chooses to only accompany VIP tours. He was an excellent guide and stayed with us the entire trip. He not only told us in detail about all the places we visited and the history of China  but was able to answer our probing questions about contemporary life in China. In each city which we visited, we were also joined by a local guide especially chosen  by Simon who provided additional knowledge and insight about the things of interest in their locality.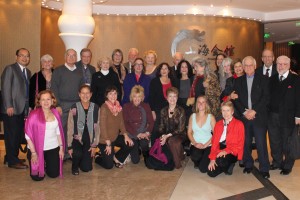 .
CAPA 2010 Tour: Top: S. Chen, L. Brown, F. Gittless, B. Thurer, C. Kahn, A. Entin, C. Brown, T. Cromie, C. Weyand, C. Bassen, B. Stockton, S. Frame, I. Stockton, E. Snyder, R. Mair, S. Browne, M. Rogolin, E. Rigolin, M. Blumenfield, M. Holquist; Bottom: E. Ronis, E. Gittless, M. Broder, S. Thurer, S. Blumenfield, J. Duncan, N. Logan
There was no better place to start than the city of Beijing, which is the Capitol of China. It has a population of over 22 million people and there are tall skyscrapers, crowded streets, upscale stores, a night food market and a lot more. Yet nestled in the center of the city is the Huotong section, which is made up of a series of courtyards with houses dating back 100 years. The streets here are quite small and to explore it we needed to take a pedicab which is a small open  carriage pulled by a man riding a bicycle. This was one of the occasions that we were not going around with the entire group but our guide did arrange for us to to have lunch with  a middle aged couple living here . After showing us around their small home they told us about their son who now teaches martial arts in San Antonio, Texas.
During our stay in Beijing we also visited the Forbidden City, which is 500 years old and was built by the Ming Emperor Yongle. It has 8,706 rooms. Nearby is Tiananmen Square, which is the site of political drama in China from the 1960s cultural revolution to student demonstrations in 1989. Some CAPA members made presentations at Beijing University. Whenever we gave a talk we always had a translator, although many of the young people do speak English. We always had a chance to chat individually with students who would come up to us before and after the formal presentations. Then there was a very momentous moment as  Dr. Snyder conducted the graduation of the first CAPA class. This was a very important event for the students and it was very special for Dr. Snyder who had worked so hard to bring this about.
It was very striking how we could be dealing with something in the modern age one day and then the following morning do something such as climb and descend part of the Great Wall of China. On another day, in the morning, we visited the Ming Tombs, which were built 600 years ago and then in the evening we went to the theater and saw the very dramatic and powerful Kung Fu show. Afterwards, we had the opportunity to chat with the participants of the show. We also saw people exercising and playing Chinese musical instruments on the grounds of the Temple of Heaven.  We paid a visit to the the site of the 2008 Olympics which had been held in Beijing. There even was a very artsy area called the 799 Art Zone which reminded us of Greenwich Village in New York except there were large statutes on many of the streets.
Our next stop was Xi'an, a few hours southwest by airplane. It's history dates back to 100 BC and it has a mere population of 7.5 million people. It was here that I made my first presentation at  Shan'xi Provincial Hospital. I recall one of the questions asked of me after I spoke had to do with whether older therapists could treat younger patients (obviously asked by a younger person). Probably the most dramatic sight in this city were the Terracotta Warriors which were statues of many soldiers buried with the first emperor "to protect him" (he originally wanted the actual live soldiers buried with him but was persuaded against it).  We bought a souvenir  of one these statues which resides now with us in our home in California.  We covered a few more museums and the very fascinating evening Moslem market.
Still further southwest was our next stop in Chengdu. The city is more than 2000 years old and has a population of  10.2 million people. It is the capitol of Sichuan  and is known for its cuisine. A person from our group gave a talk on Trauma, Enactment and Integration. For some members of our trip the visit to the Panda Home was the highlight. You get a chance to even hold a baby cub and to watch these cute bears frolic around in the grass. One evening we made a visit to the Chengdu opera, which is not like any opera that you have ever seen, but certainly held our interest. On another day we came across an interesting Chinese custom in the People's Park. It seems they have a tradition of people dancing with strangers. So our entire group waltzed around the outdoor dance floor with people we had just met.
We then headed east to the coast and probably the most dramatic city of our trip and that was Shanghai. Once a muddy fishing village, its greater metropolitan area now has more than 16 million people. Since the late 1990's there has been a great construction boom and this city now is China's economic spearhead. The skyline matches any that we have seen throughout the world and the view from their highest tower is magnificent. In the suburbs we visited Suzhou which has been named the Venice of the East.  We saw how silk paintings are made, visited the Jade Buddha and then ended up in the Eastern China Normal University where several members of our group gave talks. There also was a second graduation for students in this part of the country. We then went to Shanghai Mental Health Center where I and several other CAPA members also gave some lectures and interacted with faculty and students..
On our last evening in Shanghai we had a celebratory dinner where  our guide also presented us with a special cake. Some of the group departed for the states on the following day, while my wife and I with several others went on to the famous ancient city of Kaifeng. It had been the capitol in the Song Dynasty and is the place where a Jewish synagogue was built during the first century. We visited with descendents of those Jews who told us the history of the Jews in China and their desire to rebuild a synagogue there in modern times. As in every city where we traveled there were fascinating museums, Pagodas, Buddhist Temples and beautiful gardens. I even had an interesting "incident" when we took a trip on a hovercraft on the muddy Yellow River. We walked around on a small island and I sank up to my knees in mud and had to be pulled out.
It was not only the beautiful sights, introduction to the history and Chinese culture  that was so worthwhile on this trip, but it was some of the insights that we developed in chatting with our guides as well as the students, faculty and other people we met. This included of course, the discussion between our fellow travelers who were colleagues from all over the United States. I came to understand how the Cultural Revolution, which occurred in the 1960s eliminated many of the doctors and intellectuals who might be the Chinese teachers of psychoanalytic theory today. It also became clear how the Chinese are very proud of the economic growth which they have sustained in the past 20 years with the help of free enterprise and capitalism throughout the country but yet under the clear authoritarian rule of the non democratic Chinese government. They still have a long way to raise the standard of living of the average person especially of those who live in rural areas but there seems to be a confidence that they are well on this road. They seem to have a willingness to tolerate the absence of freedom, which we in the United States take for granted but yet value a great deal. It was very enjoyable to chat with our colleagues on the bus rides or during meals while some of us still struggled with chopsticks. We were able to exchange ideas about teaching experiences with CAPA and review such issues as the meaning of China's one child policy in the psychological make up the Chinese or about the difference between shame and depression.
Over all this was a very gratifying and stimulating three weeks. I urge you to consider participating in the CAPA program but whether you do or do not do so you should think about taking the next CAPA trip to China. You can get more information about CAPA and the next tour which will begin on October 22nd by going to http://www.capachina.org/CAPA/Events.html. You can also view a movie that I put together about our CAPA tour by going to http://gallery.me.com/ronellan#100246.