Posted on April 14th, 2010 by Dr. Blumenfield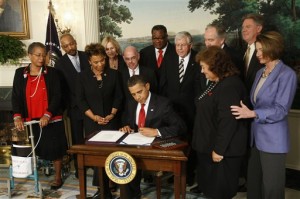 At the end of last month President Obama signed into law  comprehensive health-care reform. Thanks to the analysis of the government relations people at the APA, I can distill some of the meaning to patients who require mental health care and to the professionals who provide it for them
Coverage For All Includes Mental Health
Virtually all Americans will have comprehensive health insurance coverage that includes coverage for treatment of mental illness including substance use disorders.The provision that  individuals may not be excluded due to pre-existing conditions or dropped because of their health status will also pertain to theses condition. Mental Health and Substance Use Disorders benefits must be offered at "parity" with other medical and surgical benefits for all insurance plans sold within the health insurance exchanges that are created under the new law. There will be no annual limit or life time limits. Private insurance costs will be subsidized for those with lower incomes.
Special Support for Delivery of Services, Education and Research  for Depression
The new legislation directs the Administrator of the Substance Abuse and Mental Health Services to award grants to centers of excellence in the treatment of depressive disorders starting in 2011. This provision is in recognition of the need to develop better methods of care for this condition. This is in addition to the funding which will continue to come from the NIH & NIMH for research.
There is also  a mandate that supports screening for women suffering from post partum depression and psychosis as well as education for mothers and their families about these conditions. There will be funding for research into the  causes, diagnosis and treatment of post partum depression and psychosis. This latter support is really the culmination of the efforts of so many people including the families of women who have died from post partum depression and led to the proposed Melanie Stokes legislation.
The overall direction of increased funding for depression, in my opinion,  confirms the recognition of depression being a systemic condition which goes beyond it simply being an important mental disorder. This is one of the many advantages and benefits of another provision which authorizes $50 million in grants for coordinated and integrated services through the co-location of primary and specialty care in community based mental and behavioral health settings. The interaction of mind and body is well established and the delivery of health care is always going to be better when there is facilitated communication and access between primary and mental health services.
Medicaid and Other State Program by Other Names
In many places the success or failure of this legislation will determine how the poorest and least advantaged are able to receive mental health benefits. Much of the action here will be on the state level and until the economy turns around this will be perhaps the most difficult part to achieve.
Medicaid eligibility will be increased 133% of poverty with 100% of federal funding to all states for newly eligible Medicaid recipients for three years. Starting in 2014, former foster children will be covered by Medicaid. Also, benzodiazepines and smoking cessation drugs will be removed from  the Medicaid exclusion drug list.
Even though benzodiazepines are amongst the most addictive medications out there, the health program of the government will be removing them from the list of drugs excluded from Medicaid coverage.
There will be the Medicaid Emergency Psychiatric Demonstration Project which requires the establishment of  a Medicaid project in up to eight states requiring  reimbursement of  certain institutions for mental diseases for services provided to Medicaid beneficiaries between the ages of 21 and to stabilize an emergency psychiatric condition under the hospital anti–dumping law known as EMTALA.
Another demonstration project would be established in up to eight states to study the use of bundled payments for hospital and physicians services under Medicaid.
A third program provides options for health homes for enrollees with chronic conditions such as serious mental illness. They would be composed of a team of health professionals providing comprehensive medical services including care coordination.
There also would be increased funding for Community Mental Health Centers which traditionally provide low cost care for recipients on Medicaid ( as well as others ).
If these programs prove to be effective, they will encourage the development of similar programs in other states.

Medicare- The Most Complicated of ALL
The Medicare Part D Coverage Gap (doughnut hote) is scheduled to be closed which of course will make it easier for seniors to get all medications which they need including psychotropic drugs.
There is 5% increase for psychotherapy services scheduled to go into effect for 2010. This is an extension of the increases scheduled for part of 2008 -09 which expired in 2010. HOWEVER, Congress has not acted to prevent the 21% reduction in the Medicare Sustainable Growth Rate which is suppose to go into effect now. They have postponed this vote twice . The establishment of an equitable Medicare fee schedule for mental health services is essential for the success of the new healthcare legislation. This is especially true if psychiatrists are able to continue to participate in the Medicare program in large numbers. Psychiatric consultation and the delivery of most effective psychotherapy is a time intensive service. While it may be possible to deliver psychopharmacology in a high quality manner in brief follow-up visits, that is usually not the case with psychotherapy. If psychiatrists have to opt out of the Medicare program in order to treat senior citizen at anywhere near their usual fee for psychotherapy they will not be able to provide psychopharmacology treatment which creates a dilemma for the patients, providers and our health care system. I have discussed this issue in a previous blog.
There are also two provisions in the new legislation pertaining to Medicare which may cause further complication in the delivery of Medicare. There would be a Payment Advisory Board which may be able to recommend reductions in Medicare payment if spending exceeds certain limits. While cost cutting could be necessary, directing it at our senior citizens, when the payment fees are borderline at best, could further limit mental health care. A second provision requires all physicians participating in Medicare to report on performance measures with failure to report bringing about a 1.5% penalty.  I think this is  a good idea once it is fairly set up but premature enforcing of this provision could discourage participation in the Medicare program.
Work Force
There appears to be some wording the legislation which allows repayment of loans to doctors who are providers of mental health services to children or will be working in under-served areas.  There also will be funding for the National Health Services Corps and for mental health education as well as training grants for  social work, graduate psychology  and child psychiatry. We need to make efforts to encourage the best students to go into professions which provide mental health services.
We need to examine the new program  and try to make it work. If it needs fixing we should advocate for changes.