In the past few months two very interesting research studies have emerged  from the literature concerning the treatment of individuals  on the autism spectrum or with Fragile X Syndrome. One involves early intervention and the other involves a medication which can be used at any age. I also suggest that you look at the unrelated but heart warming short video concerning a conversation between a 12 year old boy with autism and his mother at the conclusion of the blog.
Early Intervention for Autism Spectrum
The first  study was by Dr. Geraldine Dawson at the University of North Carolina and Dr. Sally Rogers at UC Davis. The study was supported by an NIMH grant and published in  Pediatrics.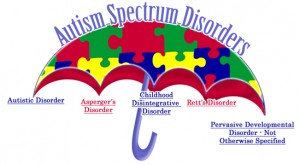 It was a randomized controlled study of 48 children between 18 months and 30 months of age who had been diagnosed with autism spectrum disorder (ASD) or pervasive developmental disorder (PDD). These children were randomly assigned to either a treatment program known as the Early Start Denver Model (ESDM), which was developed by the authors of the study, or were put in a group which received the usual community care. After two years,  children who underwent ESDM intervention showed greater improvement in intellectual development and adaptive behavior compared with the children who received the usual care.
The children in the ESDM group underwent an average of 15 hours a week intensive interventions with a trained therapist for two years . The parents of children in the ESDM group also received  16 hours a week  of guided interactive activities taught by the ESDM staff. Children in the usual care group received an average of nine hours a week of individual therapy and nine hours of group interventions such as pre-school education.
After two years the two groups of children did not differ significantly in the Autism Diagnostic Observation Schedule severity score and repetitive-behavior scores. However, the children's scores on the Mullens Scores of Early Learning increased by 17.6 points in the ESDM group and 7.0 points in the usual care group, which was statistically significant. In addition the ESDM group also showed significantly higher Vineland Adaptive Behavior Scale scores which measured social, communication, motor and daily living skills based on parent's reports.
This research would appear to indicate that while the diagnosis of the children was not changed, their ability to learn as well as  social communication and motor skills could be improved with this early intervention program. This reaffirms the importance of early diagnosis and treatment with dedicated treatment programs.
Possible Drug Treatment for Fragile X Syndrome and Autism Spectrum
Information about the second piece of research comes from an article I read in the New York Times two weeks ago about an experimental drug which achieved substantial improvement in the behavior associated with retardation in adults with Fragile X Syndrome. Normally, I would not give much credence to an unpublished piece of research discussed in a newspaper article. However, I was impressed by a statement of Dr. Thomas R. Insel, Director of the NIMH when he learned of these results. He said, "Just three years ago I would have said that mental retardation is a disability needing rehab not a disorder needing medication. Any possible results from clinical trials ( of this drug)  will be amazingly helpful."
The preliminary research trial of this new medication were began by the Novartis Pharmaceutical Company in Europe in 2008 and the data analysis was completed this year. The action of the drug is based on its effect on brain synapses and the ability of medication to change genetic instructions needed to produce proteins that encourage and regulate brain signaling. The research measured a range of aberrant behavior such as  hyperactive repetitive motions, social withdrawal and inappropriate speech in the patients that were studied. They gave one set of patients the drug and another a placebo and after a few weeks switched treatment with both doctors and patients unaware of which pill was give to each patient. It was reported that the drug showed clear improvement in behavior. The Times article quoted Dr. Geraldine Dawson, the lead researcher in the other study sited above concerning early intervention who is also chief science officer at Autism Speaks, the world's largest autism advocacy organization. She said, "The exciting thing about these results is that it is our hope that these same medications have similar positive benefits for people with autism who don't have fragile X syndrome." Dr. Luca Santarelli head of neuroscience at Roche Pharmaceutical confirmed that Roche is in the midst of testing a similar medication at four sites in the U.S. and  appears encouraged with the results thus far. Experts such as Dr. Santarelli believe that such compounds may prove most effective in young children whose brains are far more likely to respond rapidly when barriers to learning are removed, in this case by medication.
The Human Side of Autism- Mother –Child Interview
StoryCorps is an oral history program where people share life stories. In 2006 a 12 year old boy who has Asperger's Syndrome (which is part of the autism spectrum) interviewed his mother Sarah as part of the StoryCorps program. This interview was put on line with recently added animation. This is a one-of-a kind four minute conversation which covered everything from cockroaches to Sarah's feeling about Joshua as a son. This heart warming conversation is well worth watching.
Your comments on the above research and this conversation are welcome below: