Posted on September 6th, 2016 by Dr. Blumenfield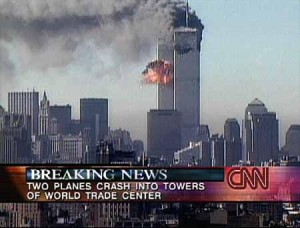 My Memories of "9/11" on the 15th Anniversary of September 11, 2001
Introduction
If you have any memories of 15 years ago you certainly remember where you were, what you did and how you felt when terrorists took over two large airline planes filled with passengers and  crashed them into the World Trade Center in New York leading to the collapse one of towers and the death of thousands of people.
I would like to use this blog to recall my memories and thoughts about where I was, what I did and how I felt. As is often the case in recollecting traumatic events, I may not have every detail correct but this is how I recall things. I should state that I while I was in New York I was not near ground zero at the time and no one close to me was killed or injured.
As a psychiatrist, I previously had some experience in working with people who were traumatized. I was a consultant to a burn and trauma unit of a hospital and had written a book about this subject. A few years previously I was part of a team that studied the psychological effects of a major plane crash in Dallas and I had studied the psychological impact on emergency workers of doing their work, as well as the impact on members of the media who cover such events. I have had occasion to write and speak on related subjects before and after 9/11.
The Event
I was in my office at New York Medical College/Westchester Medical Center, which is a suburb of New York City. My secretary told me that she had heard that a plane had crashed into the World Trade Center. This immediately brought to my mind a childhood memory of when a small plane had crashed into the Empire State Building in New York City. My father was a New York City policeman at the time and called in the event to emergency services. He subsequently brought home, a small piece of twisted metal and wires that I was told were part of the plane. I was soon to learn that 9/11 was a much greater catastrophe than that event.
The nearest television to my office was on a closed psychiatric unit in the hospital not too far from where I was located. I made my way there and in the large day room all the patients and staff were watching a medium sized television. I quickly appreciated the magnitude of this event when shortly after I entered the room and focused on the TV, I saw pictures ofone of the tallest buildings in the world collapse on live TV. As I recall the experience, there was only a quiet murmuring or perhaps some groans coming from myself and the people viewing this together. I should point out that this was a closed psychiatric unit with acute severely mentally ill patients some of who would usually be in an agitated psychotic state, perhaps with hallucinations. I don't remember any such manifestations being shown. It was almost as if many of the patients were jolted back to reality by this event. I didn't study this phenomena but it reminds me of an experience that I had in my first year of psychiatric training. I was assigned to an inpatient unit at another psychiatric hospital in New York City when there occurred a highly unusual city wide black out of all power. As I recall, it was in the evening and the hospital basically went dark with no or very little emergency power for lights for several hours . I subsequently wrote one of my first papers examining the reactions of the various patients to this unusual circumstance.
While initially we had no idea of what was the cause of this plane crashing into the World Trade Center Building or that there were other planes involved. It was apparent that many people were killed although there was no indication initially that it would be in the thousands and that people were actually jumping out of windows to their death rather than being burned to death. As the magnitude became apparent, my natural instinct as was that of others, was to be concerned about my loved ones who worked in Manhattan. While I didn't think that they would be at that location I made phone calls to assure that they all were safe. Many people did not receive good news as they checked with their family and friends. One man who I knew quite well, was director of clergy services at the hospital, lost his son at the World Trade Center. At that time I lived in one of many suburban communities outside of New York City where many people commuted to work by train. That evening there were many cars in the train station parking lot that were not picked up by people who had perished that day. Photographs of those cars that were not claimed by their owners that evening stands out in my memory.
The Aftermath
My wife who worked at a major hospital in Manhattan related how her hospital immediately had gone to it's emergency plan waiting to receive large numbers of victims with injuries that were expected. Even the suburban hospitals such as mine went on to that mode where surgeons were called in and all personal were on standby expecting to deal with the overflow of casualties from this tragedy. But despite the approximately 3000 fatalities, I understand that there were very few injuries. The ash floating down on the city may have caused some minor medical problems.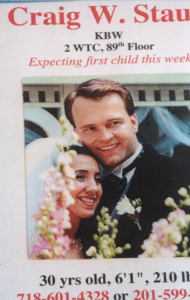 In the days and weeks following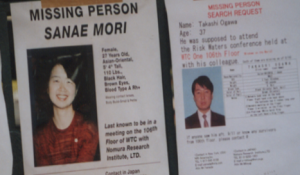 this horrific event there was this very unusual phenomena of there being many posters on walls, trees, light poles etc not only downtown but in other parts of the city. The theme of these posters was looking for a lost relative. There would be a photograph and a brief description usually stating that the person worked in the World Trade Center and was missing. There would be a phone number to call if anyone knew about this missing person. The reality was that there were no missing people. The very few people who may have visited a medical facility were identified and all of these " lost " people had obviously died. However, understandably their loved ones in many cases could not initially accept what had happened and were trying to maintain hope . Over the ensuing days and weeks many of the posters remained in place but their makers had crossed out the word " Missing" and there were words about how the poster was a memorial to them. Often there were flowers left next to them. I also recall passing a fire station from where many firemen had perished after they had entered the tower to save victims and had been inside when it collapsed. It was shrouded with black draping and an appropriate sign paying tribute to the lost heroes of that fire station.
I believe it was on Pier 92 in downtown that a massive social service outreach program was set up to assist the family and friends of people believed to be killed in the tragic event. There were places for people to register that they had lost a loved one. In many cases the remains of victims would not be found . There were psychological services offered to the distraught people many of whom were grieving lost loved ones.
I recall it was at this location that on the third or fourth day after 9/11 I was asked because of my previous experience in working with the media around traumatic events, to run a "debriefing group " for members of the media who had been working day and night on this tragic news story. Many of them had spent hours interviewing grieving friends, relatives and the colleagues of the firemen who had died. They had seen and photographed the gruesome scenes of dead bodies and the partial remains. Some had photographed the falling bodies of the jumpers who chose to die this way rather than by fire. They spent hours talking on and off the air about all the details of news story, edited their material and in many cases went without or with very little sleep since the story broke. In the earlier days of "debriefing" victims of trauma the psychological approach had been to allow each person in the group to recount their experience. We had subsequently learned that such an approach often re-traumatized individuals who heard other people's stories in the group. The approach now was more geared to explain to people about the symptoms which they might be having or might have in the near future and suggestions about how to deal with them as well as allowing them to ask any questions. We would also try to identify people having significant difficulties and offer them more individual help. In the course of running this group I mentioned how comforting members of the media particularly TV commentators might be to the public as they explain what is happening and try to keep the audience calm. Illustrating this point, I told them about a phone call I had just had with a family member who told me of a dream she had that Peter Jennings ( the ABC anchor) was talking and comforting her about the event. In the group I was speaking with was Peter Jenning's TV producer who worked very closely with him and said she was sure that he would appreciate that story and she would tell it to him that evening. You can imagine how surprised my relative was when I called her and told her that Peter Jennings would soon know about her dream.
By coincidence I had been scheduled to do a Grand Rounds Presentation at a hospital in Manhattan not too far from ground zero 10 days after 9/11. It was pointed out to me that you could previously see the fallen tower from the room in which I was speaking. I don't recall what the original topic was but we altered it to focus on that unforgettable event that had occurred in their backyard.
For many years   I have been a very small part of the large number of mental health professionals writing and teaching about how our profession can be helpful in dealing with mass traumatic events. As a therapist I realize that many people have their own individual traumatic experiences that impact them and often alter their lives. These personal traumatic events can be just as meaningful and life changing as a big event that affects large numbers of people .
While I was very fortunate not to have been  seriously traumatized by 9/11, but still the fear and worry that I had living through it along with millions of Americans  is obviously imprinted in my mind. Recounting it now in this blog relieves some of the pain  that is still associated with that memory.
Michael Blumenfield, M.D.