Posted on February 13th, 2016 by Dr. Blumenfield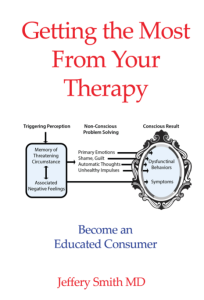 I am moving to a new phase of this blog. From time to time I will interview a person who I think might be of interest to the readers of this blog.
I am very pleased to interview psychiatrist Dr. Jeffery Smith who is the author of a new exciting book titled Getting the Most From Your Therapy- Become An Educated Consumer. Dr. Smith received his medical degree from UCLA and did his residency in Psychiatry at Albert Einstein Medical School in New York. He is an Associate Clinical Professor of Psychiatry at New York Medical College where I first met him before I came out to California. He has written two other books and has a blog about psychotherapy. The following interview is 35 minutes.
Any comments are welcome below.     Please click the line below  to listen to the interview : Interview with Dr, Jeffery Smith