Posted on December 4th, 2015 by Dr. Blumenfield
Robert Wallerstein: 65 Years at the Heart of Psychoanalysis – Interviewed and Produced  by Shelley Nathans (Available in DVD and streaming from www.psychotherapy.net)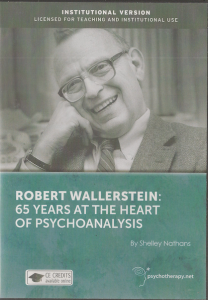 If you are a psychoanalyst, a psychoanalytically oriented psychiatrist, mental health professional or a student of psychoanalysis, you will appreciate this interview with Dr. Robert Wallerstein by Dr. Shelley Nathans. It presents Dr. Wallerstein as a warm, knowledgeable man who understands the legacy of his profession.
Dr. Wallerstein was born in Germany in 1921 and came to New York City with his mother at age two, to join his father, a physician who had come the previous year.  He grew up in the depression and recalled apples being sold by grown men for five cents apiece in order to make a living. He graduated from high school at the age of 15 and was sent to live with his uncle in Mexico City and then returned to Columbia University, graduating in 1941 at the age of 20. After medical school, he joined the army as the war was ending. He then took his psychiatric and psychoanalytic training at Menninger Clinic. His years at the Menninger Clinic, of course, are quite intriguing. I never realized that the program there had at one time 100 residents, which was one-eighth of the total number of psychiatric residents in the United States. He notes that during his psychiatric residency, the main tools to treat severe mental illness were Chloral Hydrate, ECT and lobotomies.
Although his training was in the United States, he was a witness and then a participant in the growth of psychoanalysis in this country. In the interview, Dr. Wallerstein was able to trace the plight of Jewish psychoanalysts in Germany and then in Austria, who during the pre-World War II years were not able to take Arian patients and then ultimately had to leave their native country. American psychoanalysts set up funds to bring these psychoanalysts to the United States, mostly to New York. Dr. Wallerstein described the fascinating details of this situation and also spoke of the German, probably Nazi oriented psychoanalysts, who came to Brazil and the unusual circumstances that happened in that country in the post-war years. He had occasion to conduct an investigation into the details of this situation in the 1980s.
As a faculty member at the Menninger Clinic he proudly described hiring a young psychiatrist from Chile by the name of Otto Kernberg. He also discussed his two personal analyses and candidly admits that he felt that they could have gone further than they did. He tells about meeting his wife Judith and her career as a well-known researcher who studied and wrote about the impact of divorce on children.
Dr. Wallerstein was barely at his mid-career when he moved to San Francisco in 1966 and became established at Mt. Zion Hospital. Perhaps, his greatest insights into the psychoanalytic world came during his front row seat as President of the American Psychoanalytic Association and then President of the International Psychoanalytic Association. He describes the famous "lawsuit" which, of course, was a turning point in allowing non-psychiatrist to join the American Psychoanalytic Association and take an equal role in psychoanalysis in the United States. From his unique perspective, Dr. Wallerstein was able to reflect on the roles of different schools of psychoanalysis and their influence in the United States and even labeled Anna Freud's recognition as the "crown princess."
Dr. Shelley Nathans showed excellent technique in her interview as she stayed out of the way of Dr. Wallerstein and gently led him to new topics. This interview was done in July 2013 one and half years before  Wallerstein died. While this DVD was only 1 hour and 22 minutes, there are a total of over five hours of the interview with him available in the archives. We are very appreciative of the efforts of the team led by Dr. Nathans  that captured this interview and most of all, to Dr. Robert Wallerstein for his many contribution to our profession.
To learn more information about obtaining this and other related videos, contact psychotherapy.net