Posted on June 14th, 2012 by Dr. Blumenfield
I recently previewed a new documentary film titled The Invisible War which I will be reviewing for FilmRap.net and which I felt was appropriate to reproduce in this blog..It highlights the serious problem of sexual assault in the United States Military. This should be of concern to every American but it also illustrates some major psychological issues about which mental health professionals in an out of the military need to educated and aware. Our colleagues in the military have to address this problem and as the returning soldiers seek psychological care as veterans, we need to be knowledgeable about this subject. We also have a duty as citizens to voice our objections to any policy which facilitates these criminal acts.
The Invisible War- Usually by the time we see a documentary film on a particular subject ,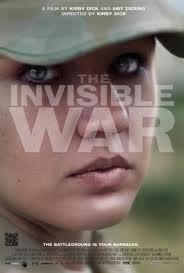 we already have a pretty good idea of the nature of the issue being covered and the film provides some interesting documentation. In the case of this film, most of the audience had no idea of the great travesty of justice that has been taking place where there are violent sexual assaults against women serving in our military services by fellow soldiers, the vast majority of whom are not punished. Female soldiers in combat zones are more likely to be raped by fellow soldiers than killed by the enemy. In 2010 there were 19,000 sex crimes committed in the military. Because of the much larger number of men in the military many of these were directed towards men but percentage wise the women have suffered the brunt of this terrible injustice In fact, 20 % of women serving in the military will experience some kind of a sexual assault.
This movie is not just about statistics. Rather it is a very painful series of personal stories told mostly by dedicated women who entered various services, intent on being the best they could be in the service of their country. Not only were they assaulted and raped by fellow soldiers, even more outrageous, if that is possible, when they complained to their superiors in the overwhelming number of cases they were brushed off and not taken seriously. Heading up the team that put this film together are Kirby Dick ( nominated for an Oscar for Twist of Faith ) who directed it and Amy Ziering who was one of the producers and sensitively did most of the interviews with the several women and two men who were featured in this movie. Each personal story almost seems worse than the one before it. The traumatic impact of these assaults and in some cases the violence of them crushes these victims physically and emotionally. They go through stages where it seems there is no way out for them and therefore it is not surprising that some of them contemplate suicide. The attempts by the military to raise consciousness of the troops to this problem are almost laughable as well as deeply insulting to women. For example one such campaign exhorts soldiers to " wait until she is sober before you ask her" A well thought out coalition of victims attempted to sue the government but their suit failed to gain traction as the first response of a federal court in West Virginia is to turn it down and state that this is an "occupational hazard."
The movie offers a glimmer of hope as one week prior to the opening of this movie, it was seen by the Secretary of Defense Leon Panetta, who takes the gigantic step forward by ruling that these assault complaints will no longer handled by the unit commander but rather will go up the ladder to higher ranking officer, presumably with less prejudice. Most probably there will not be justice until these complaints can be fairly dealt with by civilian police and courts. The film does something that many investigative documentaries don't do well, in that it clearly provides a website (http://invisiblewarmovie.com/) and an opportunity to get involved in this cause by signing petitions and doing other things. This is the power of a documentary film and there is no better cause than the one put up the screen by this movie.(2012)